AC Installation, AC Replacement & Air Conditioning Installation

Lisle, IL, Downers Grove, IL, St. Charles, IL, Naperville, IL, Glen Ellyn, IL & Wheaton, IL

Air conditioning is a must-have when summer temperatures soar.  An effective cooling system performs double-duty, not only providing precise temperature control, but also removing moisture so you feel less sticky and more refreshed.  While people tend to get tired and sluggish in hot temperatures, working capacity increases in comfortable conditions.  With the installation of a central air conditioner, you'll enjoy your ideal temperature in any room of your home.  Bedrooms can be kept cool, even on the hottest summer night, promoting a restful sleep.  Because the air is filtered, it is free from dust, microorganisms, bacteria, pollen, dander, and other contaminants that aggravate symptoms of allergies and asthma.  The benefits of a reliable cooling system are endless, and when you call the team from Energy Services Air Conditioning, Heating & Electrical, installation is simple.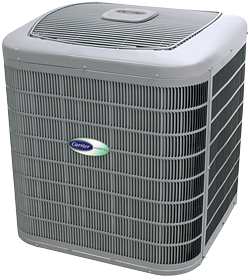 At Energy Services Air Conditioning, Heating & Electrical, we build relationships with our customers through top-level service.  By focusing our extensive resources, expertise, and 100% commitment to each and every project we take on, we have been recognized with an A+ rating from the Better Business Bureau.  We specialize in whole-home performance, ensuring that the systems in your home operate in peak condition, providing total comfort, superior efficiency, and healthy indoor air quality.  Through superior installation techniques, cutting edge technology, and the most innovative products on the market today, we deliver the cooling power you need to forget all about the weather outside.
---
Replace Your Old A/C and SAVE Money!
---
If you are living with an older cooling system, chances are the quality of the air it's circulating throughout your home is not as good as it should be.  After about ten years of operation, the majority of air conditioning units turn into a breeding ground for germs, allergens, and mold.  A unit manufactured prior to 2000 will produce far more pollutants than a modern, more efficient alternative.  Today's cooling systems also include sophisticated temperature and humidity controls, as well as filtration systems, to remove airborne contaminants and maintain consistent comfort.
Central AC Installation & Air Conditioner Replacement in Geneva, IL
Air conditioning that is oversized, or too powerful for the space it is expected to cool, will drop temperatures too quickly, and fail to adequately remove moisture or reach optimum efficiency levels.  A unit that is undersized will run constantly but fail to provide the relief you need on overly hot days.  The professionals from Energy Services Air Conditioning, Heating & Electrical have the extensive training, years of practical experience, and commitment to your complete satisfaction to accurately size your new system.  We will take the time to take exact measurements, factoring in such things as windows, doors, crawl spaces, ductwork, hot or cold spots, local climate, and quality of the home's insulation.  By pairing your needs with the perfect system, and providing conscientious installation work, we ensure rewarding results that stand up against intense usage.
---
Schedule an A/C Installation Consultation
---
For new construction or upgrades, call Energy Services Air Conditioning, Heating & Electrical and we'll design a system that answers your every expectation.  We specialize in central air, heat pumps, and ductless air conditioners, and partner with Carrier to bring you the most meticulously designed, rewarding solutions in home temperature control.  We recognize the importance of your investment into your family's comfort, and strive to facilitate your project in every possible way, including financing.  Through Wells Fargo Financial National Bank, we offer convenient monthly payments, special financing terms, and convenient online account management, allowing you to invest in superior efficiency without over-extending your budget.  Call Energy Services Air Conditioning, Heating & Electrical and expect quality treatment, cutting-edge products, and unmatched comfort.
Central AC Installation
Naperville, Aurora, Geneva, St. Charles, Oswego, Lisle & Wheaton IL
Energy Services Air Conditioning, Heating & Electrical
March 13, 2015
2020/12/03